In the next installment of the New York Times bestselling Throne of Glass series, follow Chaol on his sweeping journey to a distant empire.
Chaol Westfall has always defined himself by his unwavering loyalty, his strength, and his position as the Captain of the Guard. But all of that has changed since the glass castle shattered, since his men were slaughtered, since the King of Adarlan spared him from a killing blow, but left his body broken.
His only shot at recovery lies with the legendary healers of the Torre Cesme in Antica—the stronghold of the southern continent's mighty empire. And with war looming over Dorian and Aelin back home, their survival might lie with Chaol and Nesryn convincing its rulers to ally with them.
But what they discover in Antica will change them both—and be more vital to saving Erilea than they could have imagined.
Release Date: September 5, 2017
Emerson just made her dream come true as a professional cheerleader for her favorite pro football team. But even though the plus-size athlete is breaking down boundaries, she still has to contend with the massive rulebook. Carbs? Nope. Chocolate? Definitely not. Still, Emerson loves her curves, and she'll rock the hell out of this job even if it kills her. Except for one mandate that is easier read than done…
No fraternizing with the players.
Problem one is Miller Quinton: Emerson's first love, first sex, and the guy who still ignites her daydreams and R-rated fantasies. Thrown back together, Miller and Emerson feel the undeniable pull of passion again, even if the conflict that tore them apart seems insurmountable. Then there's way-too-sexy Grant Sanchez. He has a serious reputation with the ladies, and when it comes to winning someone he wants, he doesn't let anyone stand in his way.
Now Emerson is breaking every rule in the manual. But what she doesn't know is that she's part of a wicked little game—one that could steal both her dream and her heart.
Release Date: September 12, 2017
The day her mother passed away, Beulah was only given a name. That was it. No other explanation.
Portia Van Allan was not someone Beulah could believe her mother ever knew. Wealthy, self-absorbed and other than the fact Portia was supplying special care for Beulah's sister, Portia was cruel.
The day Portia's son returns home for the summer, Beulah discovers that Portia isn't in charge. This isn't her home at all. Her late husband left her with nothing. It all belongs to their son who doesn't seem to like his mother at all.
Jasper Van Allan doesn't know why his mother has hired a young gorgeous blonde to take care of the house and almost lets her go before he finds out the truth.
Realizing there's more to Beulah than a stunning face, he keeps finding reasons to be near her all the time. It's all falling into place, it all begins to make sense . . . until the real lies, the dark secrets, and the skeletons come tumbling out of the Van Allan closet. Twisted truths that will send Beulah running . . .
Release Date: September 14, 2017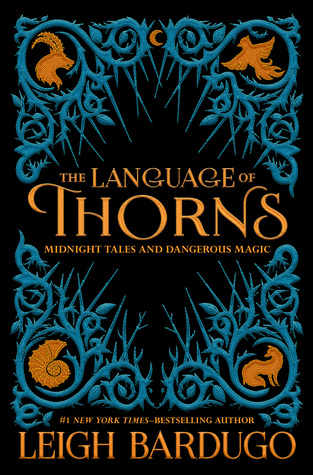 Love speaks in flowers. Truth requires thorns.
Travel to a world of dark bargains struck by moonlight, of haunted towns and hungry woods, of talking beasts and gingerbread golems, where a young mermaid's voice can summon deadly storms and where a river might do a lovestruck boy's bidding but only for a terrible price.
Inspired by myth, fairy tale, and folklore, #1 New York Times–bestselling author Leigh Bardugo has crafted a deliciously atmospheric collection of short stories filled with betrayals, revenge, sacrifice, and love.
Perfect for new readers and dedicated fans, these tales will transport you to lands both familiar and strange—to a fully realized world of dangerous magic that millions have visited through the novels of the Grishaverse.
This collection of six stories includes three brand-new tales, all of them lavishly illustrated with art that changes with each turn of the page, culminating in six stunning full-spread illustrations as rich in detail as the stories themselves.
Release Date: September 26, 2017

Fawn Reed has kissed one too many toads and has finally decided that Prince Charming doesn't exist. After countless mishaps, mistakes, and unmitigated disasters on the dating scene, she's decided to give up and move on with her life…solo.
Everything changes, however, after Fawn runs into Levi Fremont, a homicide detective new to New York City.
Dedication to the job has rendered Levi's love life nonexistent—until he moves in next door to the free-spirited Fawn. After a series of comedic run-ins push them together, will they finally give in to the inevitable and realize—maybe—they are perfect for each other?
Release Date: September 26, 2017
A bad boy with something to prove.
A woman with a mission.
The race of their lives.
The love of a lifetime.
I don't think his parents expected him to live up to his name—Racer Tate—but once he felt the adrenaline rush behind the wheel, he was addicted.
He's the fastest, fiercest driver around.
Scouting new talent brings me to his doorstep…
but his smile sends me to my knees.
The sexy, mysterious Racer Tate is not the kind of man a girl like me falls for. He's secretive, reckless, elusive. But his proximity pushes me beyond reason, and his kiss….
This is our last chance to win, and he is our only hope. I'm supposed to watch him—make sure he doesn't get into trouble. But it's an impossible task. And now the one in heart wrenching, toe-curling, soul-crushing trouble is me. Because when your heart belongs to someone, their truths become your own, and their secrets become your salvation…or your curse.
He says he wants me. He says I'm the One. But he also thinks he'll break my heart, one piece at a time until it's gone.
Release Date: September 28, 2017