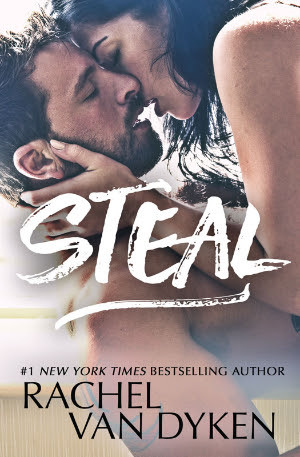 Steal, the follow-up standalone rockstar romance to the #1 New York Times Bestseller Keep…
It's easy to lose yourself in someone you love.
Easier to lose yourself in someone you hate…
I didn't think it could get any worse than having to babysit a bunch of spoiled musicians on set ― keeping them out of trouble is a cakewalk compared to seeing my ex every day.
Seaside, Oregon isn't big enough for the both of us.
She hates me.
I loathe her.
The plan was simple ― stay the hell away and make sure she gets to set on time.
What I didn't expect was to be faced with our past in front of an audience ― and be forced to face it again.
It's torture.
The way she looks at me.
The way I try to look through her.
Words left unsaid.
The lingering aftermath still as powerful as ever.
I feed the chasm between us, for fear that she'll make me feel again ― and steal the last shred of heart I have left.
We have everything but each other.
It's not enough.
Not when you've lost love.
And replaced it with the only thing left ― hate.
Release Date: July 3, 2017
Ten years ago, college student Quincy Carpenter went on vacation with five friends and came back alone, the only survivor of a horror movie–scale massacre. In an instant, she became a member of a club no one wants to belong to—a group of similar survivors known in the press as the Final Girls. Lisa, who lost nine sorority sisters to a college dropout's knife; Sam, who went up against the Sack Man during her shift at the Nightlight Inn; and now Quincy, who ran bleeding through the woods to escape Pine Cottage and the man she refers to only as Him. The three girls are all attempting to put their nightmares behind them, and, with that, one another. Despite the media's attempts, they never meet.
Now, Quincy is doing well—maybe even great, thanks to her Xanax prescription. She has a caring almost-fiancé, Jeff; a popular baking blog; a beautiful apartment; and a therapeutic presence in Coop, the police officer who saved her life all those years ago. Her memory won't even allow her to recall the events of that night; the past is in the past.
That is, until Lisa, the first Final Girl, is found dead in her bathtub, wrists slit, and Sam, the second, appears on Quincy's doorstep. Blowing through Quincy's life like a whirlwind, Sam seems intent on making Quincy relive the past, with increasingly dire consequences, all of which makes Quincy question why Sam is really seeking her out. And when new details about Lisa's death come to light, Quincy's life becomes a race against time as she tries to unravel Sam's truths from her lies, evade the police and hungry reporters, and, most crucially, remember what really happened at Pine Cottage, before what was started ten years ago is finished.
Release Date: July 11, 2017
Prim, proper, classic good girl, and her least favorite label – icy.
Lila Kate Carter has heard them all. The last one, being the newest. She is not icy. She just doesn't care for Cruz Kerrington and his spoiled, selfish, careless ways. That doesn't make her icy, that makes him a jerk!
Tired of being labeled and doing what is expected of her, Lila Kate leaves Rosemary Beach, Florida ready for an adventure. Wanting to recreate herself, find a new path, and become something more.
Eli Hardy is tired of women who always act the same, do the same thing and expect the same thing. He's ready to swear off women until he can get the rest of his life together.
Two weeks into his no-women-rule he meets Lila. She's so damn sweet and polite. Like she walked right out of an etiquette book. But he'd already been drunk before she walked in so there was a good chance she might not be as stunning and perfect as he thinks. He's just too drunk to worry about that.
The next morning, he swears he can still smell her on his skin. He just can't remember why or what happened after that third dance.
Their worlds are about to collide, and so are the secrets and lies.
Release Date: July 11, 2017
Being young is all about the experiences: the first time you skip school, the first time you fall in love…the first time someone holds a gun to your head.
After being held hostage during a robbery at the local convenience store, seventeen-year-old Edie finds her attitude about life shattered. Unwilling to put up with the snobbery and bullying at her private school, she enrolls at the local public high school, crossing paths with John. The boy who risked his life to save hers.
While Edie's beginning to run wild, however, John's just starting to settle down. After years of partying and dealing drugs with his older brother, he's going straight—getting to class on time, and thinking about the future.
An unlikely bond grows between the two as John keeps Edie out of trouble and helps her broaden her horizons. But when he helps her out with another first—losing her virginity—their friendship gets complicated.
Meanwhile, Edie and John are pulled back into the dangerous world they narrowly escaped. They were lucky to survive the first time, but this time they have more to lose—each other.
Release Date: July 18, 2017
If you can't trust yourself, who can you trust?
Cass is having a hard time since the night she saw the car in the woods, on the winding rural road, in the middle of a downpour, with the woman sitting inside―the woman who was killed. She's been trying to put the crime out of her mind; what could she have done, really? It's a dangerous road to be on in the middle of a storm. Her husband would be furious if he knew she'd broken her promise not to take that shortcut home. And she probably would only have been hurt herself if she'd stopped.
But since then, she's been forgetting every little thing: where she left the car, if she took her pills, the alarm code, why she ordered a pram when she doesn't have a baby.
The only thing she can't forget is that woman, the woman she might have saved, and the terrible nagging guilt.
Or the silent calls she's receiving, or the feeling that someone's watching her…
Release Date: July 18, 2017
"Do you know how to get to the rose garden?"
"No, you can't go there. A monster lives there."
Shaw Hollander is desperate.
Broke, unemployed, and determined to help his ailing mother, he falls on the good graces of a wealthy benefactor who is willing to give Shaw a job at his mansion in order to pay off his mother's debts. Suddenly finding himself surrounded by lavish riches, he has no idea what his duties truly entail until he's sent to the rose garden and meets the tragically mutilated Isobel.
This Beauty and the Beast story holds true to the core of the fable while shaking off the element of fantasy and dragging it into present day reality. Shaw and Isobel are ready to let you climb into their four-wheel-drive pickup and take a ride with them into their version of happily ever after, but only if you first dare to gaze upon the monster among the roses.
Release Date: July 25, 2017
Part of a world I loathe.
Part of a family who hates me more than I hate myself.
Living with a girl who reminds me of my darkness.
I'm. In. Hell.
Also known as the Cosa Nostra.
My life was over the minute I stepped off that plane.
Son to a murdered mob boss.
Heir to a throne of murder and lies.
My name is Dante Nicolasi.
And there will be blood.
Release Date: July 31, 2017