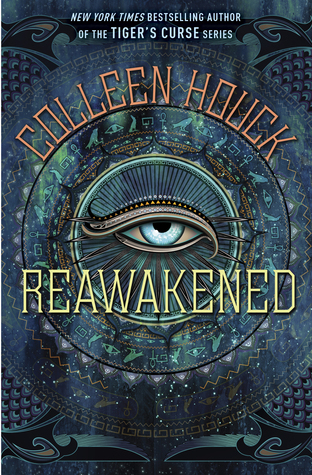 When seventeen-year-old Lilliana Young enters the Metropolitan Museum of Art one morning during spring break, the last thing she expects to find is a live Egyptian prince with godlike powers, who has been reawakened after a thousand years of mummification.
And she really can't imagine being chosen to aid him in an epic quest that will lead them across the globe to find his brothers and complete a grand ceremony that will save mankind.
But fate has taken hold of Lily, and she, along with her sun prince, Amon, must travel to the Valley of the Kings, raise his brothers, and stop an evil, shape-shifting god named Seth from taking over the world.
From New York Times bestselling author Colleen Houck comes an epic adventure about two star-crossed teens who must battle mythical forces and ancient curses on a journey with more twists and turns than the Nile itself.
Wow it took me so long to finish this book! It's my fault though. I've been distracted by some contemporaries. Oops. Even though it took me a long time to finish it, I did find this book to be really good. Is it better than the Tiger Saga, well in my opinion no, but it had the same feel. This book had lots of adventure and thrills that I really enjoyed. This author is just really good with writing books that never have a dull moment. Something is always happening!
Liliana was minding her own business in a restricted part of the museum. She's rich and her parents donated a lot of money to the museum, so she was allowed there. Then her life starts getting crazy when she meets Amon for the first time. I know a lot of people were annoyed with Lily's character. They thought she was a snob. I didn't really think so. Whenever she brought up her abundance of wealth, I felt like she was just stating a fact, and not trying to act haughty.
Amon did control and force her to come with him to Egypt. He really didn't give her a choice. I know, creepy, but he was trying to save the world. Can we all just remember that Amon was actually trying to save the world? He couldn't do it without Lily. She was just at the wrong place at the wrong time. Amon could've been bonded with anyone. It could've been the janitor, but where's the fun in that?
The romance: Mmm it was underwhelming, because Lily was just moping about how Amon seemed to reciprocate her feelings one moment, and doesn't the next. The really romantic parts were at the end of the book, which was frustrating as hell considering the circumstances they were in.
I loved Amon's brothers. I hope they would still play a big part in the next book!