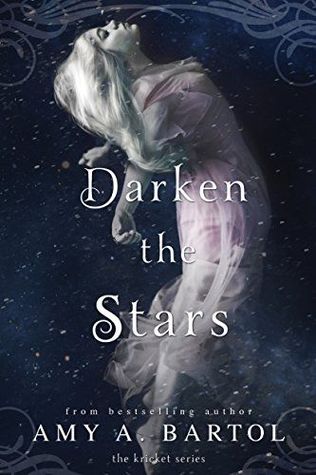 Kyon Ensin finally has what he's always wanted: possession of Kricket Hollowell, the priestess who foresees the future. Together, their combined power will be unrivaled. Kricket, however, doesn't crave the crown of Ethar—she has an unbreakable desire to live life on her own terms, a life that she desperately wants to share with her love, Trey Allairis.
As conspiracies rage in the war for Ethar, Kricket's so-called allies want to use her as a spy. Even those held closest cannot be trusted—including Astrid, her sister, and Giffen, a member of a mysterious order with a hidden agenda. But Kricket's resolve will not allow her to be used as anyone's pawn, even as the Brotherhood sharpens its plans to cut out her heart.
As the destiny prophesied by her mother approaches, Kricket will backtrack through her fiery future to reshape it. For she knows one thing above all else: the only person she can truly count on is herself.
ARC received from the publisher via NetGalley in exchange for an honest review.
This book blew me away. It was better than the first and second book. This just had more depth to it, and I felt more for the characters. I don't know how I'm going to explain all my feelings about this book. Trust me, I was a mess while reading this.
Kyon finally has Kricket. This guy got her, then lost her, got her, then lost her. I wish I had his determination. I know that Kyon's not really a good guy; but I like him. Yeah, I lost my marbles. In the first and second book, I just liked him, now I love him. He really did love Kricket. Sure, he was extremely possessive , but it was because of how he was raised. He scared me, and I liked him, but I didn't really want him with Kricket in the end, because I thought he was unstable. He changed though. He really did. He was still extremely possessive, but not in a scary way anymore. Okay, I'm talking so much about him, moving on.
Kricket now has new enemies, and even greater problems. Her supposed allies, were even her enemies. Everyone wants her dead, except for a few people. You'll be surprised who wants her dead. They didn't really say it, but it was obvious. It broke my heart. I felt so bad for Kricket. Her existence is basically only for the use of others. I wanted to give her a hug.
Trey. Oh no. I don't even know what to say about him. I love him, I really do, but he made mistakes in this book. I don't know how I feel about him anymore. I want to hug him, but I also want to punch him in the face.
Kricket's father is supposed to be the good guy, and he is the good guy for some, but I don't really agree with them. He cares for one daughter, and doesn't give a shit about the other. I don't care what the future entails and all that crap. You don't do that to your child. Kricket's father is a fucking douchcanoe. I wanted to murder this guy! He's fucking useless and he's heartless. Just a reminder for Kricket's father.
This book was just really intense for me. It was awesome, but I was scared to turn pages. Kricket really didn't need any more problems.
This was supposed to be a trilogy, but I just cannot accept that ending. I thought I was being punked, but then I remembered that no one really knows who I am besides my family. If the author decides that this will be the last book, I will die. Not literally, in case you were wondering. Nope, this is not the end. I refuse to accept that ending. Do you guys know how many times I cried while reading?! Too many to mention. It's not even a sad book!!! I mean, some parts were really sad, but I usually don't cry this much. I'm too emotionally invested in this series. I need to read or watch something really happy to get over this.