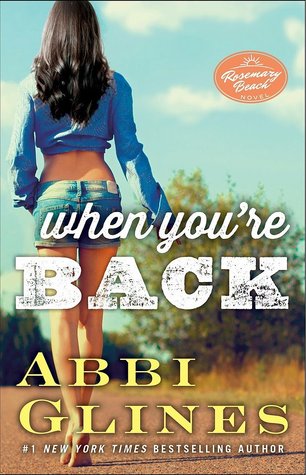 From #1 New York Times bestselling author Abbi Glines comes the next new adult novel in her beloved Rosemary Beach series, which continues the story of Mase and Reese from When I'm Gone.
The future is bright for Reese Ellis. She has Mase Colt-Manning, the man of her dreams, and a family she didn't know existed until her long-lost father arrived on her doorstep in Rosemary Beach. After growing up with a cruel mother and abusive stepfather, Reese is eager to get to know the caring and charming man who wants to be a part of her life. Everything is finally falling into place.
While Reese is visiting her new family in Chicago, Mase spends time with his "cousin," Aida, who has worshipped him since childhood. Though they're unrelated by blood, Mase and Aida have been raised to think of each other as family. But when Reese returns, she can tell something isn't quite right with Aida, who clearly resents Reese and excels at manipulative little games. And though Mase is unsuspecting, Reese knows Aida doesn't love him like a cousin should…
This book picks up where the last book left off. Reese has finally met her real father, and I thought this book would include a whole lot of scenes with Reese's father, it didn't. They did visit her family, but her newfound family wasn't a big part of the book.
Reese has finally moved to Texas to be with Mase. Everything was supposed to be perfect, but then we're introduced to Mase's cousin, Aida.
Damn I wanted to hurt this bitch. I mean I get that she's been in love with Mase for years now, but she was just a mean person. Mase only ever saw her as his cousin, so I understood that he was clueless. I wanted to slap him, yes, but I understood. Boys are dumb.
Reese also wanted to get a job, because all she did was clean the house and wait for Mase to come home. She wanted to do something with her life, and I approved of her wanting a job and earning money for herself.
I actually liked Captain. Yes, he had annoying traits, but I still liked him. I'm excited for his book!
Kiro. His life is just so sad.
I'm so happy that Mase and Reese finally found their happily ever after. They deserve it so much!