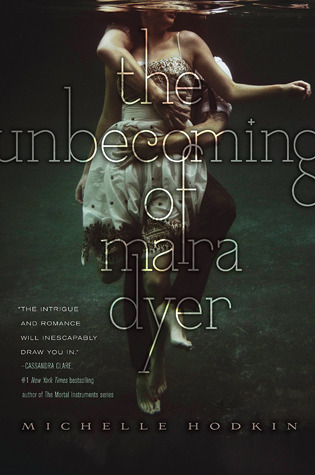 Mara Dyer believes life can't get any stranger than waking up in a hospital with no memory of how she got there.
It can.
She believes there must be more to the accident she can't remember that killed her friends and left her strangely unharmed.
There is.
She doesn't believe that after everything she's been through, she can fall in love.
She's wrong.
I've only just read this book, because I always get side-tracked by other books. I am so happy that I decided to give this a shot! It was so creepily fantastic. I love creepily fantastic books.
Mara's friends died in an accident that she was in as well, but she lived. She cannot remember anything about the accident; anything at all. She's seeing and hearing things that are impossible. What's happening to her? Is she crazy or just really stressed?
This book gave me goosebumps. It genuinely scared me. I read most of it at night; not really a good choice. Though I am really easy to creep out.
SAFE.
Well then.
Mara suggests to move, so she could still attempt to live a life wherein she wouldn't be suffocated with memories of her friends. They move to Florida, and Mara and her brothers are enrolled at a private school. There she meets Noah. I really liked Noah. I thought I had his character all figured out, but he pleasantly surprised me. I loved Mara's brothers; especially Daniel. He was so understanding and he knew the line between big brother and best friends. He makes me wish I had a big brother.
This book gave me the same kind of feels as Verum by Courtney Cole and Never Never by Colleen Hoover and Tarryn Fisher.
I will immediately jump into the second book. It's out, and I just cannot stand not knowing what will happen next.