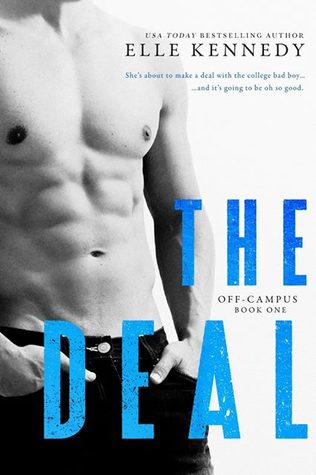 She's about to make a deal with the college bad boy…
Hannah Wells has finally found someone who turns her on. But while she might be confident in every other area of her life, she's carting around a full set of baggage when it comes to sex and seduction. If she wants to get her crush's attention, she'll have to step out of her comfort zone and make him take notice… even if it means tutoring the annoying, childish, cocky captain of the hockey team in exchange for a pretend date.
…and it's going to be oh so good.
All Garrett Graham has ever wanted is to play professional hockey after graduation, but his plummeting GPA is threatening everything he's worked so hard for. If helping a sarcastic brunette make another guy jealous will help him secure his position on the team, he's all for it. But when one unexpected kiss leads to the wildest sex of both their lives, it doesn't take long for Garrett to realize that pretend isn't going to cut it. Now he just has to convince Hannah that the man she wants looks a lot like him.
I finally found a new NA book that I absolutely love! It's been so long since I've found a book that I wanted to reread right after finishing. There's something about books like The Deal that just makes me love them so much. Yes, they're predictable. Yes, the plot is pretty unoriginal. Yes, to almost all the supposed reasons why this book did not work for some readers. But I'd just like to remind them, if you're looking for a deep book that has an elaborate plot with lots of twists and turns, NA probably isn't the genre for you. Almost all those reasons why some readers did not like this book were the reasons why I liked this book. Sometimes you just need books that make you laugh and books that are pretty predictable. Life is already serious enough. I need an escape!
Garrett is tenaciously trying to convince Hannah to tutor him. He is failing the subject and convincing Hannah, and he can't have that. He won't be able to play in the hockey team if his GPA is suffering. Hannah is not so keen on that idea. She is busy, and she doesn't have time to tutor an annoying jock.
"The aw-shucks little boy grin….Does it help you get your away? " 
She changes her mind though, when he offers her something she cannot refuse.
This book was hilarious! Garrett and Hannah were so right for each other. They challenged one another, and they were just the perfect match. I loved their friends too. They were all so funny and they added to my enjoyment of the book.
I highly recommend this book for those of you who are looking for a funny and fuzzy feels story!